professional musician
Rock, Pop, Acoustic, Country & Electronic
Music is not only my passion, it has become my professional 'hobby' off and on for over 30 years. I have played in groups such as ViViD, MoTh, & bodyFurnace, as well as my own solo work and independent film scoring.  I am currently the keyboardist/rhythm guitarist for Cover That.
I have composed and performed music for films by 5490 Studios & Global View Productions. I have appeared in numerous commercials for The CW, various businesses, Iowa Attorney General, etc.  I have also performed voiceovers for television and radio commercials.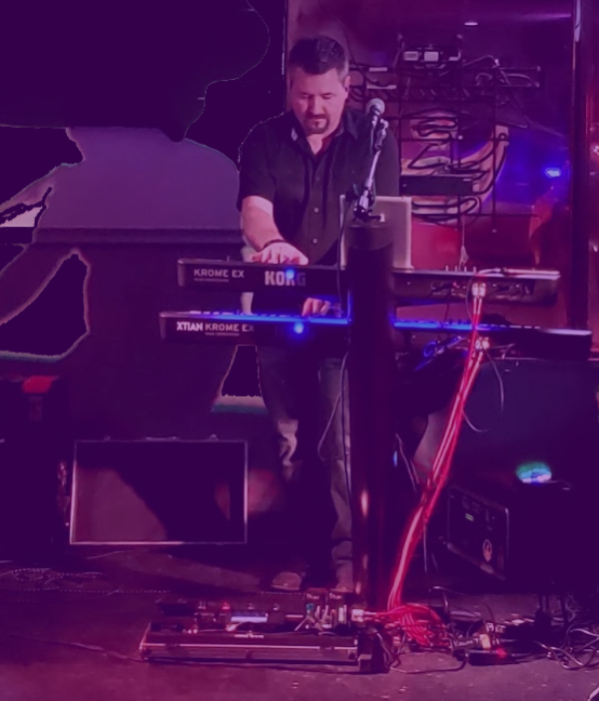 the 514 studio
WATCH ME LIVE!
Started in January 2020, The 514 Studio is home to Appropriately Inappropriate, the weekly 18+ Live Stream Video show featuring myself and my Brother Che.  Appropriately Inappropriate features crazy stories, weird things we find interesting, and over the top antics that only Brothers can create. 
Check out our show on The 514 Studio, streaming LIVE every Tuesday evening at 7:00pm CT on Facebook & YouTube. 
The 514 Studio is also home other live stream shows.  Live streams include:
Bloody Marys, Brunch, & Bad Hair
Devour Iowa
That's What She Said, He Said
and more! Visit The 514 Studio >
FUNCTIONAL efficiency
interpersonal relationships
self awareness
cognitive behavior
self discovery
From christian
FROM NOTES TO WORDS…
I began playing and loving music at a young age. But I had little outlet, other than the piano at school. What started as tinkering in the 3rd grade, eventually developed into a career spanning many years, genres, and formats. 
The same could be said about writing.  I wrote my first stories in Middle school, had my first feature at the age of 18, and published my first book in 2005. 
I am fortunate to be able to continue playing music, and have around 8 albums under my belt, as well as 4 books that have been professionally published. 
More to come… 
Contact Christian
(515) 442-0073
info@christianconnett.com